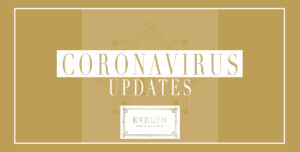 GENERAL
NB: If you'd like your therapist or stylist to wear a face-covering during your treatment, please call and make it known to our reception team prior to your appointment: 01613028822
_
24.07.21
Unfortunately, due to a number of our team being 'pinged' by the track & trace app, we will have to temporarily close our Manchester salon until Saturday 31st July; when we will have enough staff members out of isolation to enable us to reopen again.
If you have an appointment booked with us, we will be in touch to rearrange this with you.
We are sorry for any inconvenience.
With love the House of Evelyn team. X
_
12.04.21
We're back open! As per the government guidelines, we have opened our doors once again! Please ensure you wear a face covering when attending the salon.
Please visit for further guidance: Coronavirus (COVID-19): guidance and support – GOV.UK (www.gov.uk)
_
01/11/2020
Following on from yesterday's announcement by the UK Government, we will be closing our doors on Wednesday 4th November 2020 after 8pm until further notice.
Should you require any information regarding specifics on appointments, please contact our salon/spa direct:
01613028822 / 01704883800
_
05/10/2020
We understand that with the number of Covid cases rising at the moment people may have some anxiety when visiting a salon environment, so we want to reassure our new and loyal guests that we are taking all the necessary steps to keep our salon a safe place for both our team and guests.
💛 Our salon & spa have been deep cleaned by the North West's leading deep clean and decontamination specialists. Their pioneering disinfect and protect chemical fog treatment, keeps our premises free of harmful bacteria for up to 30 days at a time.
💛 This procedure is carried out every 30 days in both our Manchester & Southport salon's.
💛 We take all of our staff and guests temperature upon entry of the salon.
💛 All of our team where the necessary PPE as per the government guidelines.
💛 Hand Santisers is to be used upon entry of the salon and is available freely throughout the salon.
💛 Protective screens are in use at each hair styling station, the backwash, all along our nail bar and at our pedicure stations.
💛We have social distancing stickers on the floor throughout the salon to ensure guests stay a safe distance from each other.
💛 We have private rooms that are available upon request for the majority of our treatments and for Hair appointments.
💛 Each area is steam cleaned in between the use of each guest.
If you have any questions or concerns please do not hesitate in contacting us so that we can put your mind at ease.
With Love,
Evelyn and all of the House of Evelyn team.